The Venues
The main venue - UL Academic Centre
It is located at the new campus of University of Latvia in Pārdaugava district and houses several faculties aiming for interdisciplinary collaboration.
Learn more about UL Academic Center by visiting akademiskaiscentrs.lu.lv/en/.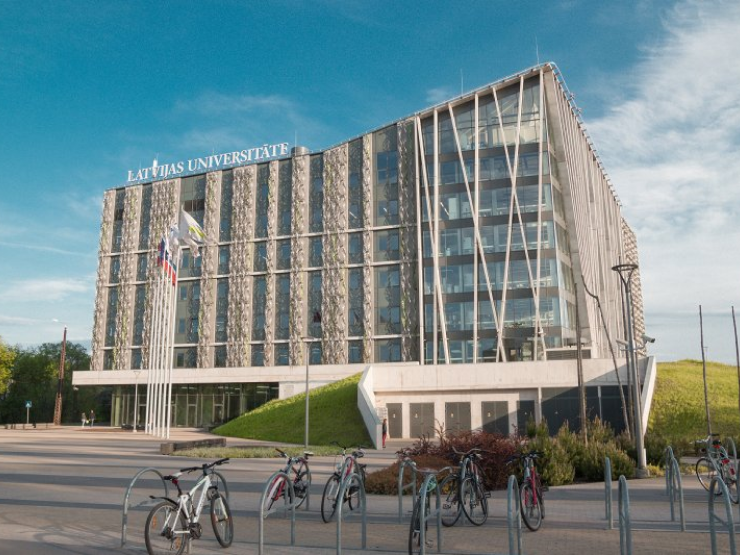 Getting There
To get there take public transport to "Nacionālā bibliotēka" stop.
Trams serving this stop: 1, 2, 5, 10
Buses: 3, 4, 7, 8, 21, 22, 25, 32, 38, 39, 43, 54, 55, 63
Trolley bus: 9
If you are in Old Town Riga, then this is the next stop across the river Daugava from the "Grēcinieku iela" stop.
Train is another option - get out at Torņakalns station, that is one stop away across the river Daugava from Riga Central Station in direction to Jelgava or Dubulti, Sloka, Ķemeri, Tukums 1, 2 (Jurmala line). See Local Transportation for more details.
The BoF Venue - Central building, University of Latvia
It is located in the very center of Riga. The historic building from 1869 is a short stroll away from Riga Old Town and other attractions, and surrounded by central parks of Riga. Faculty of Computing shares the building with Faculty of Law and Faculty of Theology.
Getting there
To get there by public transport practically any route will lead you to the city center. The closest stops are "Inženieru iela" served by
Bus: 16
Trolley bus: 3, 4, 11, 13, 14, 15, 16, 17, 19, 20, 22, 31, 34
and
"Latvijas Universitāte" stop served by
Trolley bus: 15, 18, 20, 23
Closest tram stops are:
"Nacionālā opera" served by route 5, 7
"Aspazijas bulvāris" or "Merķeļa iela" served by route 1
If coming across the river Daugava from Pārdaugava district, you might get out at "Grēcinieku iela" stop and take a walk through Old Town Riga.
Also this is located a 5 minute walk away from Riga Central Station. See Local Transportation for more details.